Print this chapter
Forums and Email
How do I subscribe to a forum?
To subscribe to multiple forums within a course page, open the 'slider' menu by clicking on the green half circle then clicking on Forums in the activities block.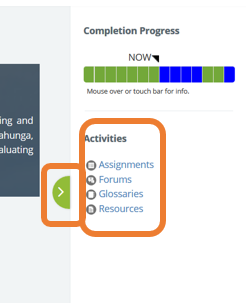 You can select to subscribe or unsubscribe from all forums in the course - please note, the Announcements forum is set to forced subscription, you cannot unsubscribe from this forum.

Or you can change the subscription to an individual forum by clicking on the button to change the setting to 'yes' subscribed or 'no' not subscribed